Peer-Reviewed Submissions
11/2/2013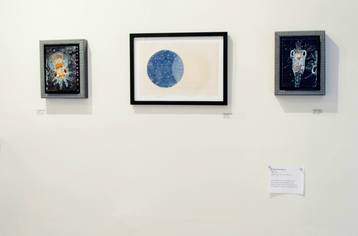 "Peer-Reviewed Submissions" is an art show of mathematical or scientific themes curated by Elisabeth Nicula and Ted Ollier at Nave Gallery's Annex in Somerville, MD. Two Zooplankton paintings have been included in the exhibit which will run from November 2 – November 23,2013. The opening reception is scheduled for Saturday, November 2, 6-8 pm. Nave Gallery Annex is located at, 53 Chester Street (Davis Square), Somerville, MA.
The artists whose works are in the show are: Diana Abells, Kathleen Benton, Jonathan Cartledge, Chris Cavallero, Viktor Genel, Melissa Glick, K. Gretchen Greene, Markus Haala, Amelia Hankin Cashin, Sarah Kariko, Elinor Karlsson, Sarah May, Jackie Miller, Marjorie Moore, Elisabeth Nicula, Michel Ohly, Ted Ollier, Anne Russell, Kate Sheridan,Beverly Sky, Steven Stark, Jeremy Starn, Mark Stock, Andrea Warner, Matthew Wilt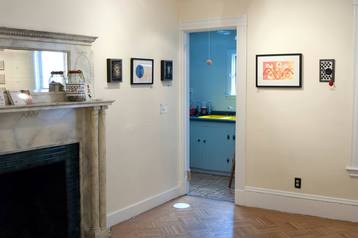 ---
Four Zooplankton in "small work - BIG TALENT"
9/13/2013
Las Laguna Gallery in Laguna Beach, CA presents a very large group show entitled "small works - BIG TALENT" from September 7 - 28,2013. Multiple works from eighty-nine artists were selected for the show. Four of my Zooplankton paintings are included: Octopus, Octopus Larva, Pteropod & Octopus, and Fish Larvae 3. My paintings were given their own wall, painted a dark gray (see photo above). I only wish I had been able to attend the opening and see the show in person!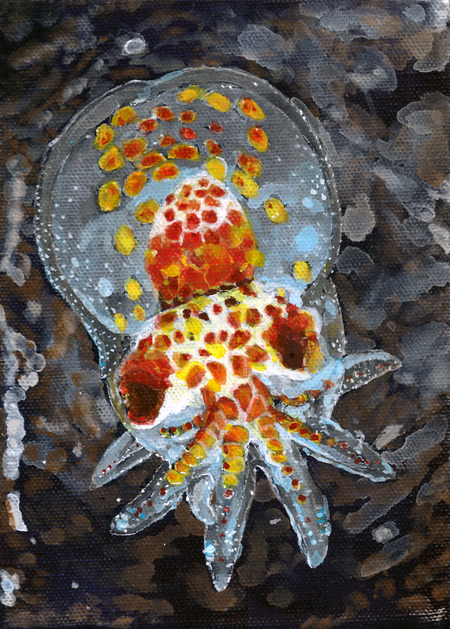 Ocotpus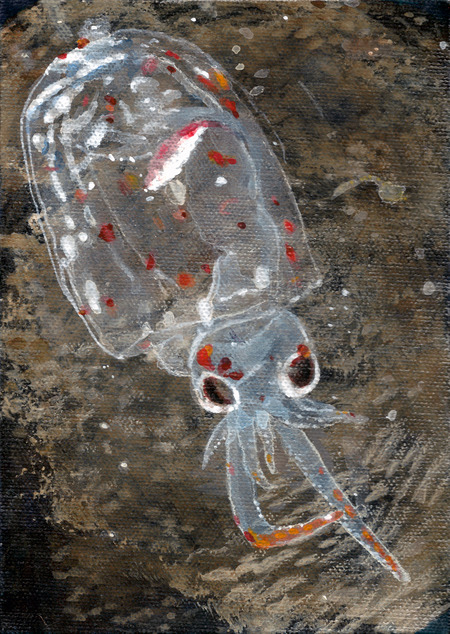 Octopus Larva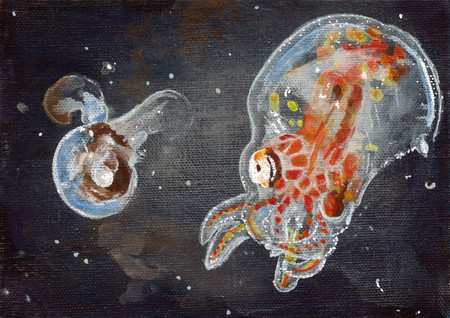 Pteropod & Octopus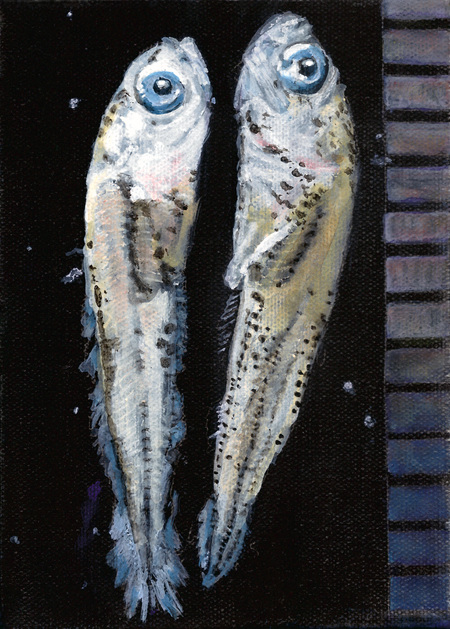 Fish Larvae 3
---
Annmarie Sculpture Garden Small Works Exhibition
8/16/2013
Small Works Exhibition & Sale at Annmarie Sculpture Garden & Art Center, Solomons, MD, will be on view from August 16, 2013 through January 5, 2014. During this time the Center has planned a number of coordinated events such as the After Hours reception in August, an Artsfest weekend in September, and more as fall progresses into winter. Six Camouflage Fish paintings are included in the exhibit and sale: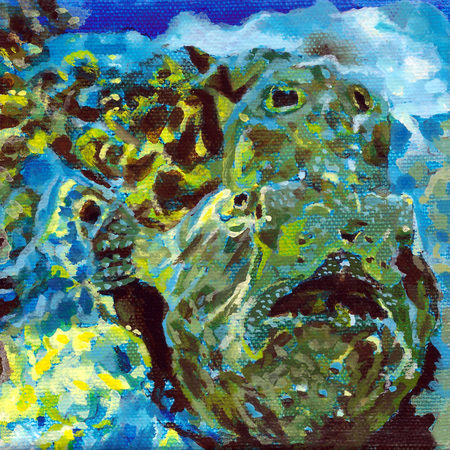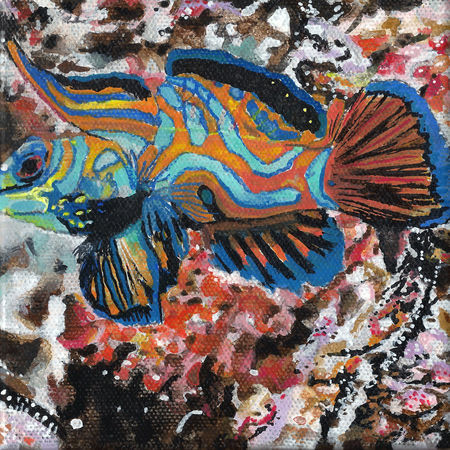 Stone Fish Mandarin Fish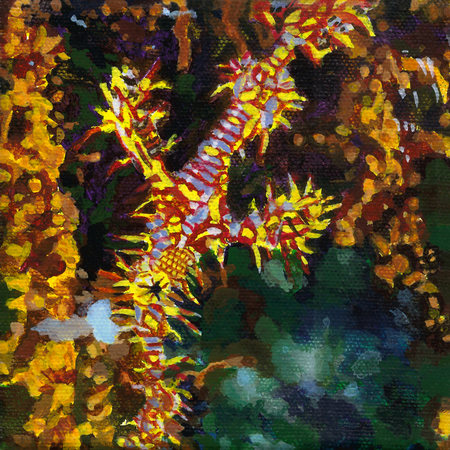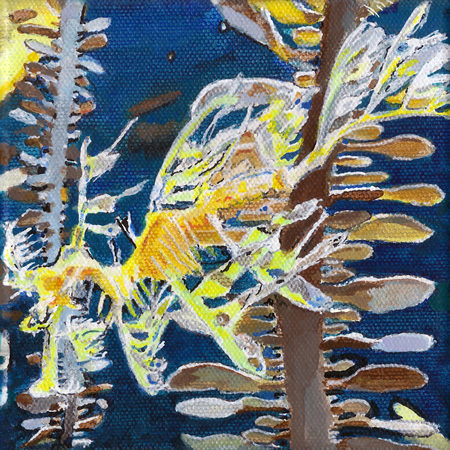 Ghost Pipefish Sea Dragon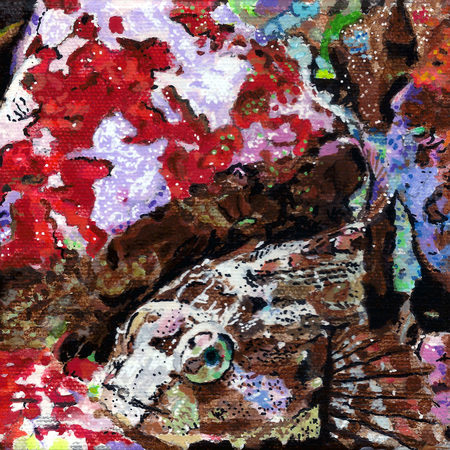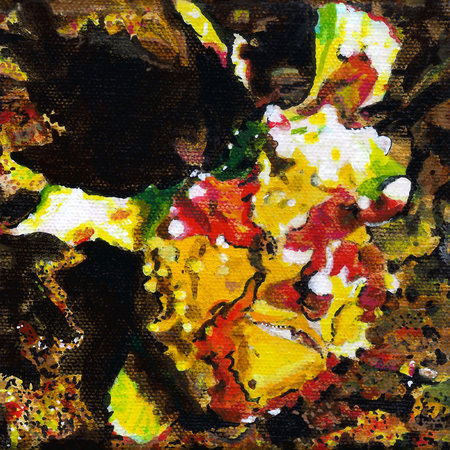 Clown Frogfish Pink Fish
---
PRESS RELEASE: 24th Annual International Juried Exhibition
7/2/2013
Viridian Artists, a gallery in the Chelsea district of Manhattan has opened a a show which includes my painting, Fish Larvae. Following is the gallery's statement:
PRESS RELEASE:
24th Annual International Juried Exhibition
BY VIRIDIAN ARTISTS ON
Viridian Artists' 24th International Juried Exhibition Juried by Elisabeth Sussman, Curator, Whitney Museum, New York
July 2 – July 20, 2013
Opening reception Thursday, July 18th, 6:00 – 8:00 pm.
Chelsea: Viridian Artists Inc. is pleased to present their 24th International Juried Exhibition. Curated by Elisabeth Sussman, Curator, Whitney Museum, New York,the exhibition opens July 2nd and continues through July 20th, 2013. In celebration, a special reception will be held on Thursday, July 18th 6:00 – 8:00 pm. At that time, meet the curator and many of the artists.
Viridian's International Juried Exhibitions are a series of exhibitions that serve to encompass a diverse selection of outstanding art from around the world that might not otherwise be seen in New York City. This marks the 24th year that the gallery has offered artists the opportunity to have a major museum curator see a selection of their work.
As the recipient of the sixteenth CCS Bard Award for Curatorial Excellence, Elisabeth Sussman was recently recognized for her dynamic curatorial vision and her dedication to the field. She is Curator and Sondra Gilman Curator of Photography at the Whitney Museum of American Art. Most recently, along with co-curator Jay Sanders, she curated the 2012 Whitney Biennial.
During her time curating this exhibition at Viridian, she spent many long hours viewing over 1000 images sent from around the world. In her curatorial statement, Sussman states:
"New York City, considers itself, rightly or wrongly, the center of the art world. In the week when the jurying of this exhibition took place, another art fair, Frieze, was in town, the contemporary auctions at Sotheby's and Christie's were bringing in tons of money and mega galleries in Chelsea were featuring gigantic shows of globally branded artists. Jurying an exhibition like Viridian's at that time was an essential activity, a relief from the horrifying realization that, at least in New York, little separates the art world from global financial markets and the entertainment industry."
In addition to the exhibition juried by Sussman, Viridian's director, Vernita Nemec, also views the hundreds of images submitted and curates a selection that she feels have merit for a power point presentation viewable for the duration of the exhibition. This "Director's Choice" selection is another opportunity that Viridian presents as part of its mission is to give exposure to outstanding under-known artists.
Group Exhibition: Juried by Elisabeth Sussman
First Prize: Elizabeth Castonguay Second Prize: John Hansen Third Prize: Malika Cosme
Honorable Mentions: Alexander Churchill, Henry Coupe, Barry Goldberg*
Lizz Aston * Ed Herman * Samaray Akarvardar * Jane Alexander-Perry * Ransom Ashley * Bob Augstell * Kathleen Benton * S Brian Berkun * Elizabeth Castonguay * Alexander Churchill,* Malika Cosme * Henry Coupe* Barry Goldberg * John Hansen * Edith Hillinger * Aram Han * Timothy Macy * Dana McElroy * Pilar Olaverri *Zoran Poposki * Leonard Rosenfeld * Kimberly Rowe * Seena Sussman * Tore Terrasi * Rebecca Treadwell *Susan Evans Trees * Catherine Vanaria * Andrew Williams *
Director's Choice curated by Vernita Nemec
Emma Buck * Matty Davis * Lauren Dishinger * Nancy Robb Dunst * Rachel Edwards * Kristin Enck ** Jim Granito * Joshua Greenberg * Aimee Hertog * Marla Hoffman * Daniela Izaguirre * Jerry Johnson * Lynne Johnson * Srividya Kannan Ramachandran * Joanna Kidd * Mark Kolessar * Neil Sedwin * Marcia Lloyd ** Maxine Loustalot * DeeDee Maguire * Nicole Pietranton * Robin Becker * Christopher Ruane * Rachel Sard ** Leslie Sheryll * Suprina.*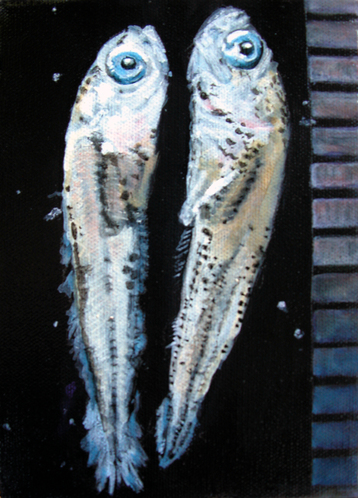 ---
Hudson Valley Art Association's 81st Annual Juried Exhibtion
6/14/2013
Amiens Nave was selected for inclusion in the HVAA 81st Annual Juried Exhibition.
From the HVAA Website page:
81st Annual Juried Exhibition
June 14th through July 28, 2013
$14,000 in merit awards​ ​
this year the show will be held at the
Lyme Art Association Gallery, 90 Lyme Street, Old Lyme CT, 06371
Opening reception and Awards Presentation June 21st 6-8 pm
HVAA holds an annual exhibition of oils, aqua media, pastels, graphics and sculpture in the Exhibition Galleries of invitational associations. The show is open to non-members as well as members. Awards totaling approximately $10,000 are given for meritorious works. Artist members of the Board of Directors select from non-member exhibitors whose work is outstanding and an invitation is extended to them for membership. ​
No forms of distorted paintings are accepted by the Hudson Valley Art Association at their exhibitions as it is the aim of the Association to preserve and encourage the character, knowledge, craftsmanship and respect for natural form, color and design which distinguish fine painting and sculpture... ​​
Jury Statement: The artwork should reflect a strong technical skill within the accepted practices of the medium as well as a use of material that is respectful of the subject matter. The work should be an original representational depiction of the subject matter, that is to say, of a real and recognizable subject. The subject should be depicted in an accurate manner.
---
Small Works at Mamaroneck Artists Guild
5/22/2013
The "Ninth Open Juried Small Works Exhibition" opened on Wednesday, May 22 and will be on display at the Mamaroneck Artists Guild Gallery in Larchmont, NY until Saturday, June 15, 2013. There will be a reception on Saturday, June 1 from 5 - 7pm. Juror Anne von Stuelpnagel, Director of Exhibitions, Bruce Museum of Arts and Science, has included my Camouflage Fish painting, "Mandarin Fish".
---
"Elements" at the Hammond Museum
5/18/2013
Juror Jennifer McGregor, Director of Arts & Senior Curator at Wave Hill, Bronx, NY, has included my painting "Krill" in the Katonah Museum Artists' Association Members Juried Exhibition, "Elements". The Hammond Museum in North Salem, NY is hosting the show from May 15 - June 8, 2013. The reception was held on May 18 from 12-3 pm. 113 artist-members entered a total of 383 works. The juror ultimately selected 50 pieces in keeping with the environmental theme. The prospectus had included the following subtitle and statement:
Elements: THOSE IRREDUCIBLE COMPONENTS FROM WHICH ALL ELSE SPRINGS
Whether considering the Four Classical Elements, the Periodic Table, Chinese medicine, or the principles in art, ELEMENTS are the essential, defining components that make up the greater whole.
---
Honorable Mention at RGOA "Juried Members Show"
4/17/2013
Two Zooplankton paintings are included at Ridgefield Guild of Artist's Juried Members Show from April 13-May 12, 2013. The juror Susan Hardesty, Curator and Creative Director, Norwalk Community College has selected Brachyura Zoea 2 (Shy), above, which was awarded an Honorable Mention, and Brachyura Zoea 3 (Naughty), below.
Susan Hardesty: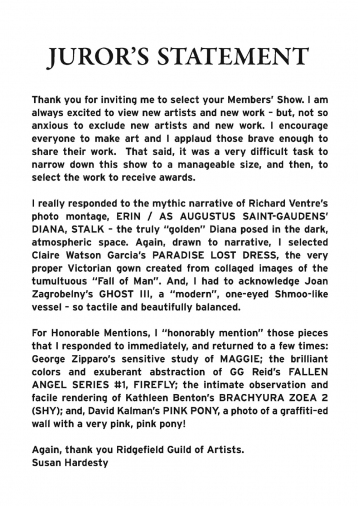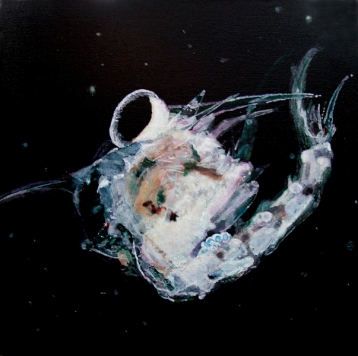 ---
KMAA Show at Northern Westchester Hospital
4/17/2013
The Katonah Museum Artists' Association includes four of my plant paintings in an exhibition at the Northern Westchester Hospital in Mt. Kisco, NY. The work will be on display from March 21 - September 24, 2013.
---
"Resolution" at Ridgefiled Guild of Artists
1/13/2013
My two paintings, Amiens Floor and Amiens Nave, will be included in Resolution 2013, a members show to be held at the Ridgefield Guild of Artists in Ridgefield, CT.
As an explanation of the show's theme the Guild prospectus offered this reasoning:
Resolution isn't just a word for the effort we might make at the beginning of the year to lose weight or recycle more. Our art-making presents us with many challenges, and this members-only, non-juried show seeks art that reflects the ways the concept of resolution applies. Resolution can also refer to a conflict, for example, within the artistic process, which has been brought to conclusion—or not!"
Each artwork will have a short statement about their resolution written by the artist. The exhibit will run from January 19th through February 17th. An opening reception will be held on Saturday, January 19 from 4-6pm; Snow date: Sunday, January 20, 4-6pm.

---
BJ Spoke Gallery previews "Expo 32" Artists
1/9/2013
BJ spoke Gallery recently announced the winners to be included in their Expo 32 exhibition. I am honored to have three of my Zooplankton paintings chosen for the show by curator Stan Brodsky, a Long Island artist. The gallery blog is conducting a preview of sorts by featuring an example of artists' work, biographies and statements. You can see the post about me and my work by clicking here.
The gallery describes the show and its intention:
expo 32
EXPO 32 Winners Exhibition

On view from April 2nd – 28th

Reception for EXPO 32 is on Saturday, April 6, 6-9 pm

b. j. spoke invited, Stan Brodsky, Professor Emeritus of Art C. W. Post, LIU to judge entries received for the gallery's EXPO 32 National Competition. The juror Stan Brodsky is a contemporary New York artist, who has been exhibited extensively in New York, Long Island and throughout the United States. He is represented in New York by the June Kelly gallery and his paintings are to be found in both museums and private collections. Renowned as a master colorist, Mr. Brodsky's abstract landscapes capture the essence of nature, while his figurative work employs color to create highly personal expressionist images.
The gallery asked Mr. Brodsky to create a "mini solo show" for each of the talented winners, so that there would be room to hang more art than artists.
Here are the twenty (20) winning artists the juror selected:
Michael Ananian, Kathleen Benton, Rhonda Buckley, Traci Cremeans, Peter Galasso,Flex Gilbert, Don Haggerty, Georgina Keenan, Kate Kelly, Stacy Leeman, Judie Marcus,Steve Mason, Barbara Miller, Ralph Mindicino, Aina Nergaard-Nammack, David Paarlberg-Kvam, Cheryl Safren, Cordell Taylor, Esmé Thompson, and Jenny Wiener.