Purdue University Galleries Permanent Collection Purchase
4/30/2014
I was thrilled to receive the following letter from Purdue University Galleries' Director, Craig Martin, informing me of the purchase of Fish Larvae 3 for their Permanent Collection:

"During the recent Lilliputians March exhibit here at Purdue Galleries, we gave visitors the opportunity to vote for works in the show that they would like to see purchased for the Galleries permanent collection. I'm happy to say that your painting "Fish Larvae" was selected by a large number of our visitors, and we would very much like to purchase the work from the exhibit...

I'm very much looking forward to adding your piece to the Purdue Galleries collection!...


Craig

Craig Martin, Director
Purdue University Galleries
Yue-Kong Pao Hall of Visual and Performing Arts"


Thank you so much to all the gallery visitors who voted for my work!
---
National Small Works Competition at Purdue
3/9/2014
Lilliputians March is the title of the National Small Works Competition which is held biennially at Purdue University. This year's exhibition runs from March 10-April 26, at the Robert L. Ringel Gallery, Stewart Center, Purdue University, West Lafayette, IN.
Fish Larvae was selected by the juror for inclusion in the show. The painting was also featured on the reception invitation (above). The reception will be held on Thursday, March 13th from 5:30 - 7 pm. Attendees will have the opportunity to cast their votes for which works in the exhibit they feel should be purchased for the permanent collection.
Juror Mark Ruschman serves as Chief Curator of Fine Arts for the Indiana State Museum and Historic Sites. He previously owned and directed the Ruschman Gallery in Indianapolis. He was also the director of TURF, the IDADA Art Pavilion, which featured site-specific installations by artists from around the state, as part of the cultural festivities in conjunction with Super Bowl XLVI.
---
Emrupt
1/1/2014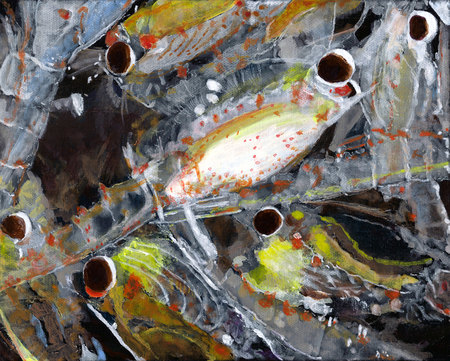 "Emrupt" (Emerge+Erupt) International Contemporary Art Exhibition, a show focusing on emerging artists, is to be displayed at Leigh Wen Fine Art, a gallery in the Chelsea district of New York. My zooplankton painting Krill will be included. The exhibition will run from January 9-30, 2013. An opening reception is planned for Thursday, January 9th from 6-8 pm.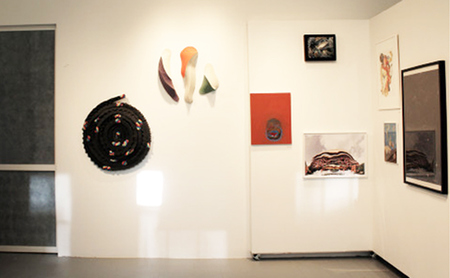 Installation view at Leigh Wen Fine Art